Currently, Push Panel only supports sending subscription messages to users on Facebook. The types of push message you can send out to your subscribers are the same as those listed in Facebook Message Types.
Push Info
Name & Description

You must give a name to your push message. Description, however, is not compulsory.
Include/Exclude Audiences

This is where you could set the audiences to be included/excluded for a specific push message. You may add multiple audience groups in both "Include Audiences" and "Exclude Audiences" to divide the subscribers into groups.

Unsubscribed audience is set as default in "Exclude Audiences" because they have expressed their preference to unsubscribe from your chatbot.
Schedule Start Time

Every push message has to have a start time so that our system will start blasting out the message for you. The convention of time is GMT +8 offset (i.e. Hong Kong Time) under 24-hour clock system. You can specify the start time precisely to minute.

If you don't set any start time (or set a start time that has past already), the push message will be sent out immediately starting from the current time.
Priority

Priority is used when you have two or more push messages on your sending list.

For example, if you are sending out Push A to your subscribers and would like to send an ad-hoc Push B to the subscribers because Push B is more important. In this case, you need to set a higher priority for Push B and it will interrupt the sending order and got pushed before Push A.
Messages

This is the part you customize your push content. Please refer to Facebook Message Types for all the response types you could use.
---
Create Push Content
Click "+Push" button to create new push
Fill in the name of your push
Include/exclude necessary audiences according to your preference
Schedule a start time of your push message to begin blasting
Set priority if you need to
Click "Save" button and put your push in the sending list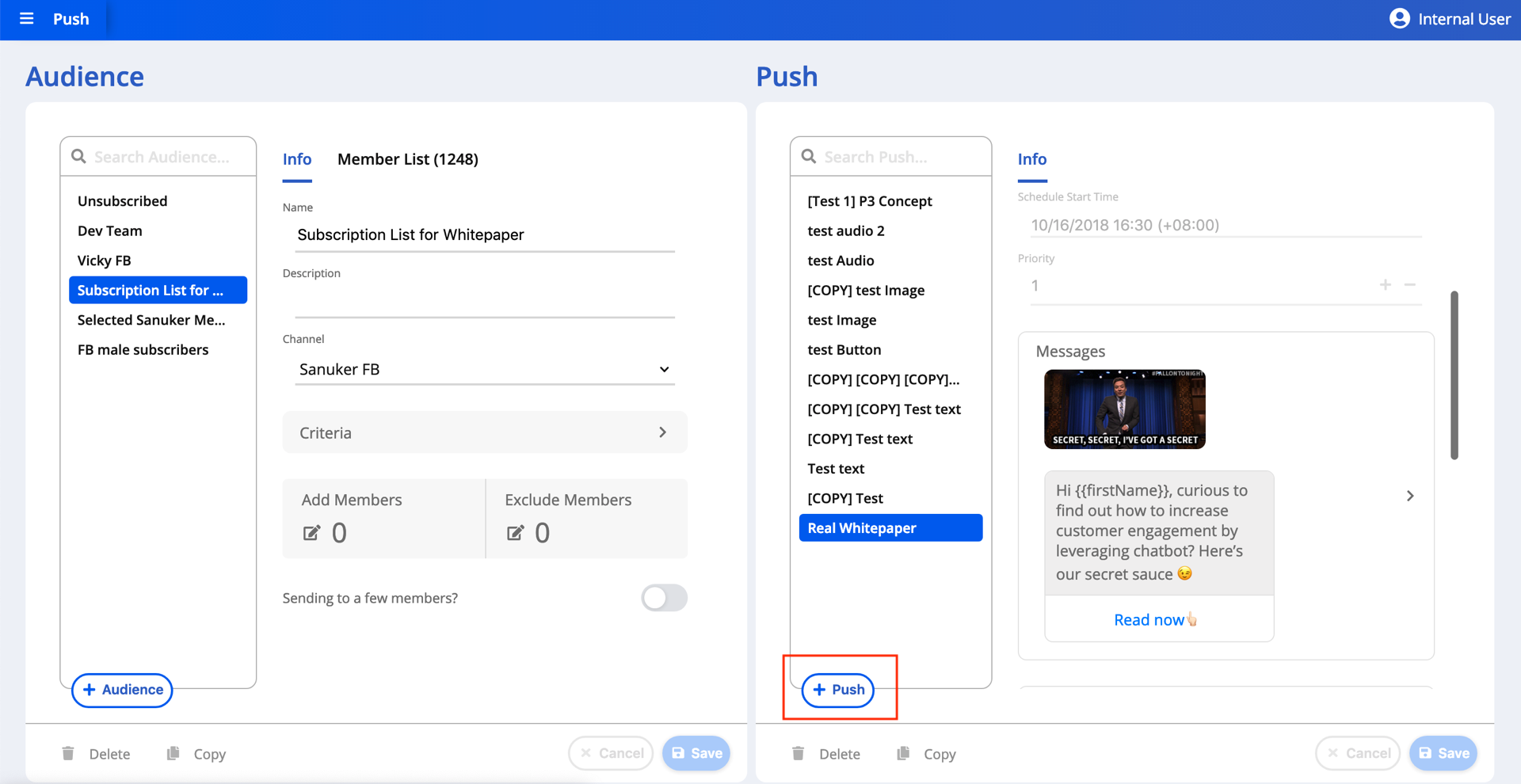 Image 1: Click "+Push" button