Comparing with other messaging platforms, WhatsApp has a stricter requirement and here're a few things you should pay attention to when you plan to create digital presence on WhatsApp Business.
WhatsApp Business API

WhatsApp business API helps businesses onboard and build their first official WhatsApp messaging experience. WhatsApp business API is different from that WhatsApp business app on Android. Stella has integrated with WhatsApp business API and allows our users to create chatbot through our platform.

Registering as a business will unlock features such as:
Industry Information: People can now easily identify your business by its category or industry and find out more information (i.e., hours of operation, website, location, description).
Send and Receive: Enable two-way high value conversations with customers.
Message Templates: Create message formats that are needed for sending notifications to users.
Supported Message Types

Please see Message Types for supported message types on WhatsApp business.
24-hour Customer Care Window

If customer initiates messaging with your WhatsApp business account, WhatsApp will not charge for any messages (including Templated Messages) that your WhatsApp business account send to that customer for up to 24 hours following the last message that that customer sends to the WhatsApp business account ("Customer Care Window"). Any additional message being sent to that customer beyond the Customer Care Window must be a Templated Message, for which will be charged by WhatsApp.
Templated Messages

Message Templates are message formats for common reusable messages a business may want to send. Businesses must use Message Templates for sending notifications to customers. This allows a business to send just the template identifier along with the appropriate parameters instead of the full message content. Your message templates will be reviewed manually to ensure they do not violate WhatsApp policies.

WhatsApp currently supports the following types of message templates:
Account Update
Alert Update
Appointment Update
Issue Resolution
Payment Update
Personal Finance Update
Reservation Update
Shipping Update
Ticket Update
Transportation Update
For the supported languages, please refer to WhatsApp Supported Languages.
Pricing

The price of each delivered Templated Message is based upon the country code of the message recipient and the volume of Templated Messages delivered in a calendar month to a given country or region.

For the detailed pricing, please refer to WhatsApp List Price Schedule.
Rejection

Advertising, marketing, or promotional messages are not permitted. Some examples of this include the following:
Offering coupon codes and/or free gifts
Upselling
Cold call messages
Sending a survey or poll to collect data
Inclusion of certain words or phrases that make the message template promotional (even though the content of your template may be fine)
Message templates with floating parameters only
For detailed guidelines, please refer to WhatsApp Message Template Guidelines.
Opt-in

Image 1: Example of ppt-in interface
A user must first consent to receive messages in WhatsApp by opting into them via a third-party channel. This can be any channel your business uses to communicate with people today — your website, app, email, SMS, retail location, etc.
You must follow the requirement of WhatsApp Business on the Opt-in UI/UX:
A visual element shown next to the WhatsApp name and logo on any chosen third-party channel, i.e. your website
You can design your own UI of the opt-in element which must follow the three requirements from WhatsApp:

The opt-in must be an active opt-in. This means it must be triggered by a user action, such as entering a phone number or checking a box to indicate consent.
Clear opt-in messaging so that a user knows what type(s) of messaging the person is signing up for.
Must show WhatsApp logo and name.
For detailed opt-in requirements, please refer to WhatsApp Opt-in Guidelines.
Verified WhatsApp Business Account

There are two types of WhatsApp Business Accounts:
| Name | Description |
| --- | --- |
| Official Business Account | WhatsApp has verified that an authentic brand owns this account. An Official Business Account has a green checkmark badge in its profile and next to the header in the chat thread. The name of the business is visible even if the user hasn't added the business to their address book. Very few businesses will be an Official Business Account. Being verified on Facebook or Instagram will not help your business be an Official Business Account. |
| Business Account | Any account that is using the WhatsApp Business API is by default a Business Account. |
Official Business Account
Official Business Account with green tick
If the WhatsApp Account is an Official Business Account, the Verified Name will be visible in the chat list, chat screens, chat groups, and contacts view instead of the phone number. There will be a green checkmark beside the displayed name in the contacts view.
To apply for an Official Business Account, WhatsApp requires businesses to complete Business Verification and enable Two-step Verification during WhatsApp Account Registration.
Business Verification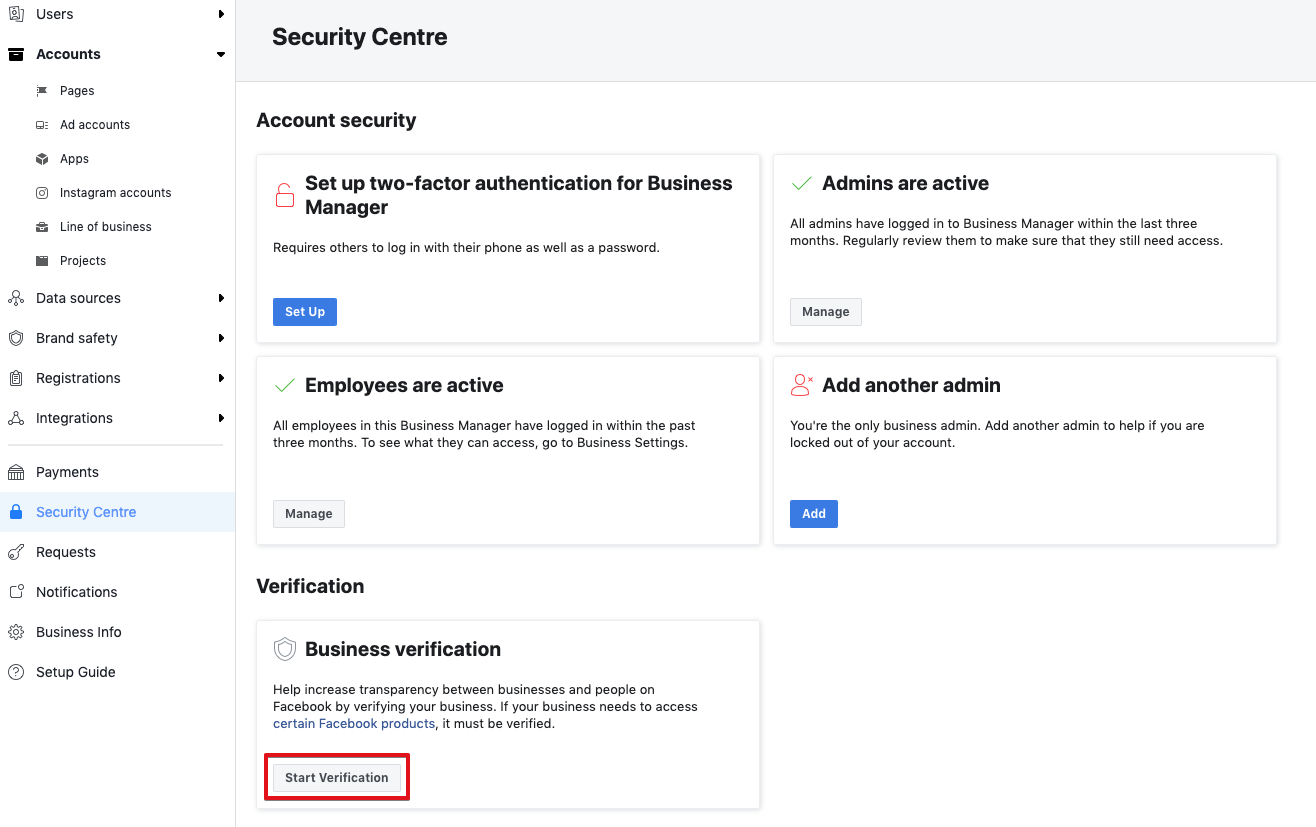 Facebook Business Manager Settings
You will have to complete verification for your Facebook Business Manager, please refer to the steps given here. Once your business is verified, you will be able to see your business verification status as "verified".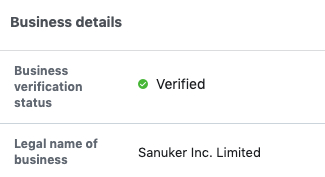 Verified Facebook Business
Two-step Verification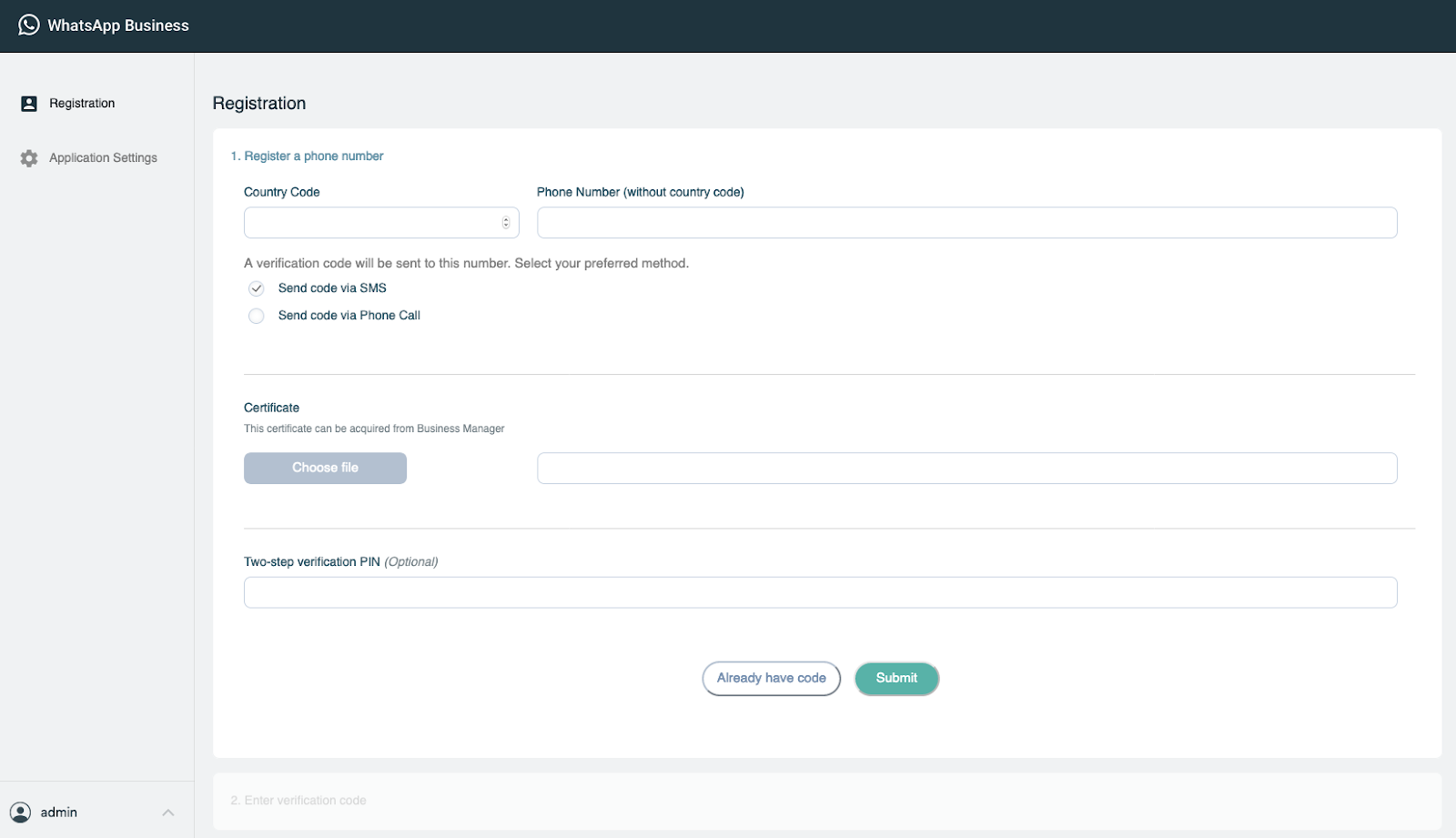 WhatsApp Business Registration Portal
You will also need to set up a code for two-step verification. The two-step verification PIN will be given by Sanuker while you have to complete the mobile number registration by entering the PIN provided by us.