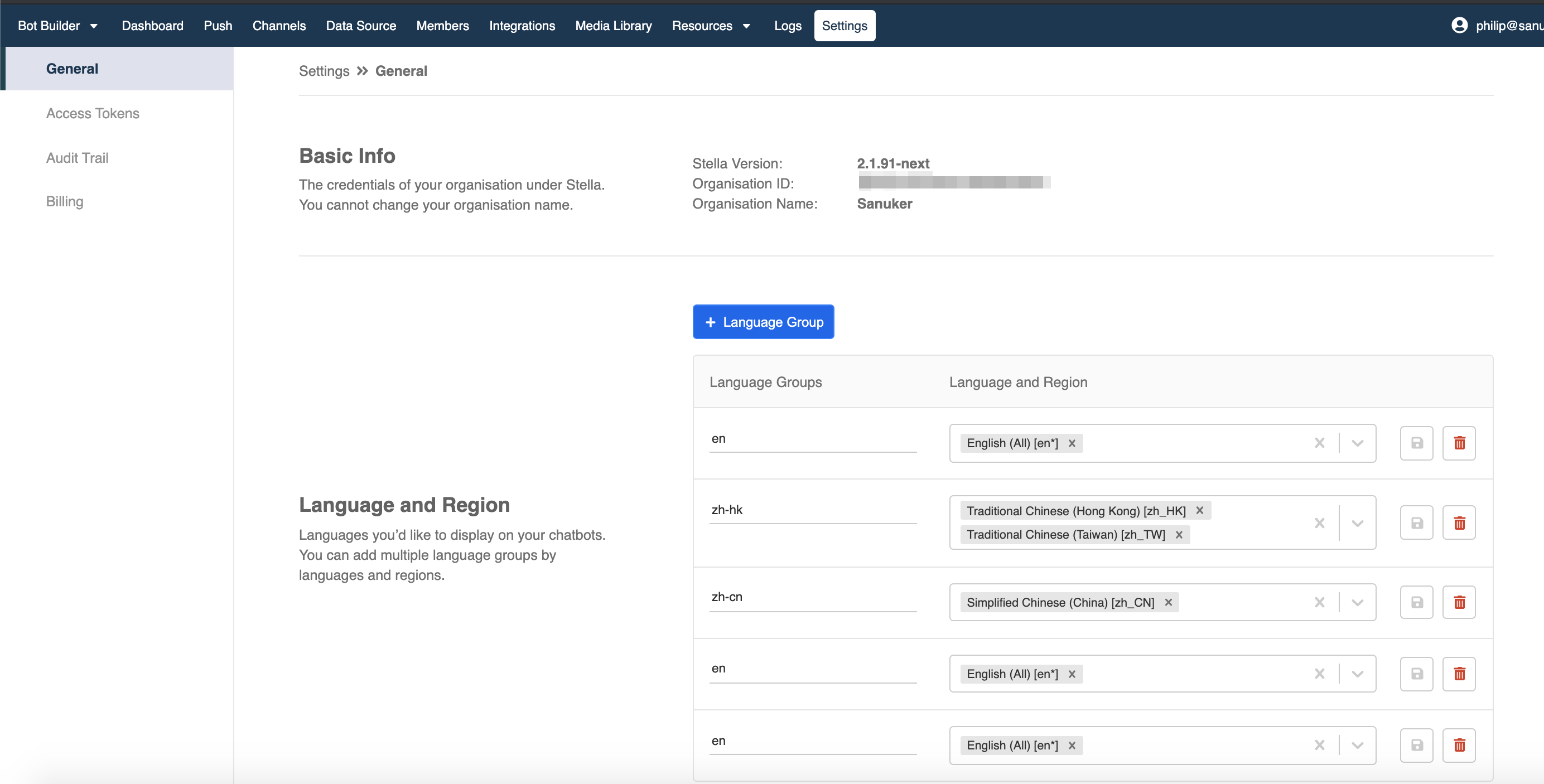 Locale under Settings
Locale is located under the section "General" of Settings. Under "Language and Region", you can add different language settings by local groups.
Getting Hands On

Click here to open the Settings.

Locale dropdown menu
Click "+Locale Group" button to create a new locale group.
Enter the languages you would like to include in this specific locale group. Languages with the same primary subtag will be categorized into LANGUAGE (All). You can simply select it to include all the languages with same primary subtag right away.

Select language
Once selected, the language selection will become grey and you can click the save button on the right to save the locale settings.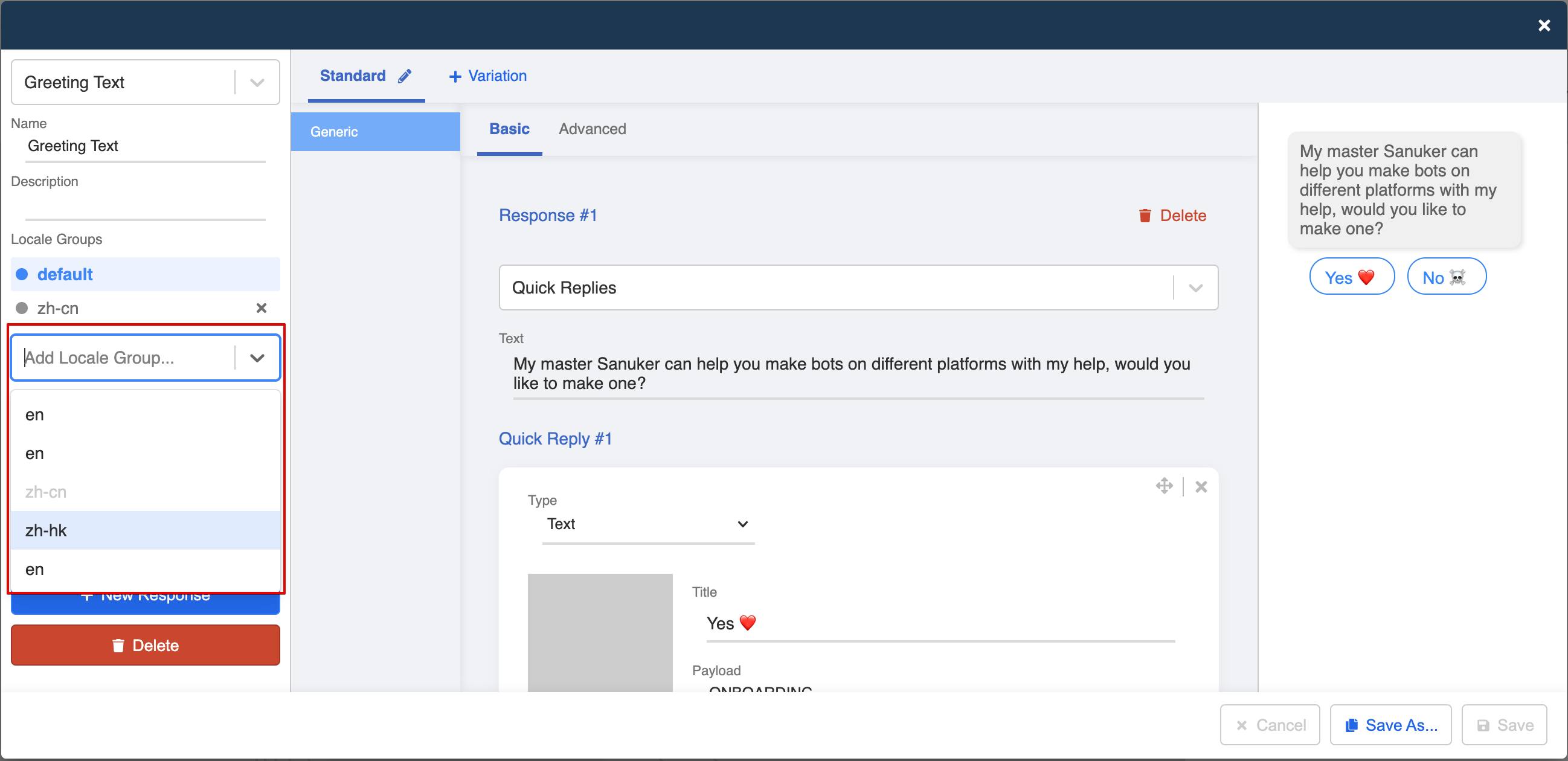 Set messages in different languages in Responses
In Responses, you can select your saved local groups on the left.
You don't need to create separate trees for different languages. You just need to set up different responses in the node inspector.
Supported Locales

Stella supports localization for responses. Below is a list of supported locale:
| locales | Description | Language |
| --- | --- | --- |
| en_US | English (United States) | English (United States) |
| ca_ES | Catalan (Spain) | Català |
| cs_CZ | Czech (Czech Republic) | Čeština |
| cx_PH | Bisaya (Philippines) | Bisaya |
| cy_GB | Welsh (United Kingdom) | Cymraeg |
| da_DK | Danish (Denmark) | Dansk |
| de_DE | German (Germany) | Deutsch |
| eu_ES | Basque (Spain) | Euskara |
| en_UD | English (uʍop əpısdՈ) | English (uʍop əpısdՈ) |
| es_LA | Español | Spanish |
| es_ES | Español (España) | Spanish (Spain) |
| gn_PY | Guarani | Guarani |
| fi_FI | Finnish (Finland) | Suomi |
| fr_FR | French (France) | Français (France) |
| gl_ES | Galician (Spain) | Galego |
| hu_HU | Hungarian (Hungary) | Magyar |
| it_IT | Italian (Italy) | Italiano |
| ja_JP | Japanese (Japan) | 日本語 |
| ko_KR | Korean (South Korea) | 한국어 |
| nb_NO | Norwegian Bokmål (Norway) | Norsk (bokmål) |
| nn_NO | Norwegian Nynorsk (Norway) | Norsk (nynorsk) |
| nl_NL | Dutch (Netherlands) | Nederlands |
| fy_NL | West Frisian (Netherlands) | Frysk |
| pl_PL | Polish (Poland) | Polski |
| pt_BR | Portuguese (Brazil) | Português (Brasil) |
| pt_PT | Portuguese (Portugal) | Português (Portugal) |
| ro_RO | Romanian (Romania) | Română |
| ru_RU | Russian (Russia) | Русский |
| sk_SK | Slovak (Slovakia) | Slovenčina |
| sl_SI | Slovenian (Slovenia) | Slovenščina |
| sv_SE | Swedish (Sweden) | Svenska |
| th_TH | Thai (Thailand) | ภาษาไทย |
| tr_TR | Turkish (Turkey) | Türkçe |
| ku_TR | Kurdish (Kurmanji) | Kurdî (Kurmancî) |
| zh_CN | Simplified Chinese | 中文(简体) |
| zh_HK | Traditional Chinese (Hong Kong) | 中文(香港) |
| zh_TW | Traditional Chinese (Taiwan) | 中文(台灣) |
| af_ZA | Afrikaans (South Africa) | Afrikaans |
| sq_AL | Albanian (Albania) | Shqip |
| hy_AM | Armenian (Armenia) | Հայերեն |
| az_AZ | Azerbaijani | Azərbaycan dili |
| be_BY | Belarusian (Belarus) | Беларуская |
| bn_IN | Bengali (India) | বাংলা |
| bs_BA | Bosnian (Bosnia and Herzegovina) | Bosanski |
| bg_BG | Bulgarian (Bulgaria) | Български |
| hr_HR | Croatian (Croatia) | Hrvatski |
| nl_BE | Dutch (Belgium) | Nederlands (België) |
| en_GB | English (United Kingdom) | English (United Kingdom) |
| et_EE | Estonian (Estonia) | Eesti |
| fo_FO | Faroese (Faroe Islands) | Føroyskt |
| fr_CA | French (Canada) | Français (Canada) |
| ka_GE | Georgian (Georgia) | ქართული |
| el_GR | Greek (Greece) | Ελληνικά |
| gu_IN | Gujarati (India) | ગુજરાતી |
| hi_IN | Hindi (India) | हिन्दी |
| is_IS | Icelandic (Iceland) | Íslenska |
| id_ID | Indonesian (Indonesia) | Bahasa Indonesia |
| ga_IE | Irish (Ireland) | Gaeilge |
| jv_ID | Javanese (Indonesia) | Basa Jawa |
| kn_IN | Kannada (India) | ಕನ್ನಡ |
| kk_KZ | Kazakh (Kazakhstan) | Қазақша |
| lv_LV | Latvian (Latvia) | Latviešu |
| lt_LT | Lithuanian (Lithuania) | Lietuvių |
| mk_MK | Macedonian (Macedonia) | Македонски |
| mg_MG | Malagasy (Madagascar) | Malagasy |
| ms_MY | Malay (Malaysia) | Bahasa Melayu |
| mt_MT | Maltese (Malta) | Malti |
| mr_IN | Marathi (India) | मराठी |
| mn_MN | Mongolian (Mongolia) | Монгол |
| ne_NP | Nepali (Nepal) | नेपाली |
| pa_IN | Panjabi (India) | ਪੰਜਾਬੀ |
| sr_RS | Serbian (Serbia) | Српски |
| so_SO | Somali (Somalia) | Af-Soomaali |
| sw_KE | Swahili (Kenya) | Kiswahili |
| tl_PH | Tagalog (Philippines) | Tagalog |
| ta_IN | Tamil (India) | தமிழ் |
| te_IN | Telugu (India) | తెలుగు |
| ml_IN | Malayalam (India) | മലയാളം |
| uk_UA | Ukrainian (Ukraine) | Українська |
| uz_UZ | Uzbek (Uzbekistan) | O zbek |
| vi_VN | Vietnamese (Vietnam) | Tiếng Việt |
| km_KH | Khmer (Cambodia) | ភាសាខ្មែរ |
| tg_TJ | Tajik (Tajikistan) | Тоҷикӣ |
| ar_AR | Arabic | العربية |
| he_IL | Hebrew (Israel) | עברית |
| ur_PK | Urdu (Pakistan) | اردو |
| fa_IR | Persian (Iran) | فارسی |
| ps_AF | Pashto (Afghanistan) | پښتو |
| my_MM | Burmese (Myanmar [Burma]) | မြန်မာဘာသာ |
| qz_MM | Zawgyi (Myanmar) | Zawgyi |
| or_IN | Oriya (India) | ଓଡ଼ିଆ |
| si_LK | Sinhala (Sri Lanka) | සිංහල |
| rw_RW | Kinyarwanda (Rwanda) | Ikinyarwanda |
| cb_IQ | Sorani | کوردیی ناوەندی |
| ha_NG | Hausa (Nigeria) | Hausa |
| ja_KS | Kansai-ben (Japan) | 日本語(関西) |
| br_FR | Breton (France) | Brezhoneg |
| tz_MA | Tamazight | ⵜⴰⵎⴰⵣⵉⵖⵜ |
| co_FR | Corsican (France) | Corsu |
| as_IN | Assamese (India) | অসমীয়া |
| ff_NG | Fulani (Nigeria) | Fula |
| sc_IT | Sardinian (Italy) | Sardu |
| sz_PL | Silesian (Poland) | ślōnskŏ gŏdka |