Comparing with other messaging platforms, WhatsApp has a stricter requirement and here're a few things you should pay attention to when you plan to create digital presence on WhatsApp Business.
WhatsApp Business API

WhatsApp business API helps businesses onboard and build their first official WhatsApp messaging experience. WhatsApp business API is different from that WhatsApp business app on Android. Stella has integrated with WhatsApp business API and allows our users to create chatbot through our platform.

Registering as a business will unlock features such as:
Industry Information: People can now easily identify your business by its category or industry and find out more information (i.e., hours of operation, website, location, description).
Send and Receive: Enable two-way high value conversations with customers.
Message Templates: Create message formats that are needed for sending notifications to users.
---
WABA Setup Procedure

Please see WhatsApp Setup Procedure for more details.
---
Supported Message Types

Please see Message Types for supported message types on WhatsApp business.
---
24-hour Customer Care Window

If customer initiates messaging with your WhatsApp business account, WhatsApp will not charge for any messages (including Templated Messages) that your WhatsApp business account send to that customer for up to 24 hours following the last message that that customer sends to the WhatsApp business account ("Customer Care Window"). Any additional message being sent to that customer beyond the Customer Care Window must be a Templated Message, for which will be charged by WhatsApp.
---
Templated Messages

Message Templates are message formats for common reusable messages a business may want to send. Businesses must use Message Templates for sending notifications to customers. This allows a business to send just the template identifier along with the appropriate parameters instead of the full message content. Your message templates will be reviewed manually to ensure they do not violate WhatsApp policies.
Supported Categories

WhatsApp currently supports the following types of message templates:
| Category | Description |
| --- | --- |
| Marketing | Send promotional offers, product announcements, and more to increase awareness and engagement. |
| One-time passwords | Send codes that allow your customers to securely access their accounts. |
| Transactional | Send account updates, order updates, alerts, and more to share important information. |
In order to avoid your templates being rejected by WhatsApp, please make sure the purpose of your template matches with the category.
---
Supported Languages

The following are the supported languages for message templates. You can refer to here for the full list of supported languages.
Language (A-K)
Code
Language (L-Z)
Code
Afrikaans
af
Lao
lo
Albanian
sq
Latvian
lv
Arabic
ar
Lithuanian
lt
Azerbaijani
az
Macedonian
mk
Bengali
bn
Malay
ms
Bulgarian
bg
Marathi
mr
Catalan
ca
Norwegian
nb
Chinese (CHN)
zh_CN
Persian
fa
Chinese (HKG)
zh_HK
Polish
pl
Chinese (TAIWAN)
zh_TW
Portuguese (BR)
pt_BR
Croatian
hr
Portuguese (POR)
pt_PT
Czech
cs
Punjabi
pa
Danish
da
Romanian
ro
Dutch
nl
Russian
ru
English
en
Serbian
sr
English (UK)
en_GB
Slovak
sk
English (US)
en_US
Slovenian
sl
Estonian
et
Spanish
es
Filipino
fil
Spanish (ARG)
es_AR
Finnish
fi
Spanish (MEX)
es_MX
French
fr
Spanish (SPA)
es_ES
German
de
Swahili
sw
Greek
el
Swedish
sv
Gujarati
gu
Tamil
ta
Hebrew
he
Telugu
te
Hindi
hi
Thai
th
Hungarian
hu
Turkish
tr
Indonesian
id
Ukrainian
uk
Irish
ga
Urdu
ur
Italian
it
Uzbek
uz
Japanese
ja
Vietnamese
vi
Kannada
kn
Kazakh
kk
Korean
ko
---
Pricing

The price of each delivered Templated Message is based upon the country code of the message recipient and the volume of Templated Messages delivered in a calendar month to a given country or region.

For the detailed pricing, please refer to WhatsApp List Price Schedule.
---
Quality Based Message (QBM)

In September 2021, WhatsApp has globally launched the quality based message, and let businesses engage their customers in full-funnel conversations via WhatsApp Business API. New types of messages including product recommendations, back-in-stock alerts, timely offers, informational alerts, are allowed to be sent without the transactional-only restriction on messages outside the 24-hour window.

Businesses should do the following:
Obtain opt-in from customers before sedning business-initiated messages.
Apply an experiemental-based approach to see what resonates with customers.
The process of message template creation remains the same.

Choose an existing template category during submission.
Make sure the template doesn't violate the Commerce or Business Policy.
Plan in advance to account for review times.
Regarding the WhatsApp Business Policy:
Transactional-only requirement for business-initiated chats outside the 24-hour window has been removed.
Opt-in policy remains unchagned, please refer to "Opt-In Best Practices" (bottom of the page) for the best practice.
Please note that users can still block or report a business at any time, WhatsApp might rate limit or remove specific templates if a business's quality rating is low for a sustained period of time.
---
Rejection

After review by the WhatsApp team, the templated message can be rejected, the reason might be one of the following.
Inncorrect Format

Messages with misspellings or grammatical errors;
Incorrect use of variable parameters;
Selected language doesn't match with the content, etc.

Violation of WhatsApp's Business Policy

Content irrelevant to goods and services provided by the business;
Involving transaction of goods and services restricted by WhatsApp such as drugs, tobacco, alcohol, etc

Potentially Abusive or Threatening Content

Messages that threaten customers with a legal course of action;
Messages that threaten to add customers to a WhatsApp group with their friends and family to shame them if they don't pay back their loans
For the detailed guidelines, please refer to WhatsApp Message Template Guidelines.
---
Opt-in

Image 1: Example of opt-in interface
A user must first consent to receive messages in WhatsApp by opting into them via WhatsApp or a third-party channel. This can be any channel your business uses to communicate with people today — your WhatsApp thread, interactive voice response (IVR) flows, website, app, email, SMS, retail location, etc.
You must follow the below requirements when obtaining opt-in:
You must clearly state that a person is opting in to receive messages from the business over WhatsApp
You must clearly state the business' name that a person is opting in to receive messages from
You must comply with applicable law
You should continue to optimize for the user experience while obtaining opt-in. For example, you should:
Explicitly call out the types of messages a person is opting into (e.g., delivery updates)
Avoid messaging people too frequently
Provide instructions for how customers can opt out and honor these requests
Monitor your quality rating, especially when rolling out new opt-in methods
For detailed opt-in requirements, please refer to WhatsApp Opt-in Guidelines.
---
Verified WhatsApp Business Account

There are two types of WhatsApp Business Accounts:
| Name | Description |
| --- | --- |
| Official Business Account | WhatsApp has verified that an authentic brand owns this account. An Official Business Account has a green checkmark badge in its profile and next to the header in the chat thread. The name of the business is visible even if the user hasn't added the business to their address book. Very few businesses will be an Official Business Account. Being verified on Facebook or Instagram will not help your business be an Official Business Account. |
| Business Account | Any account that is using the WhatsApp Business API is by default a Business Account. |
Official Business Account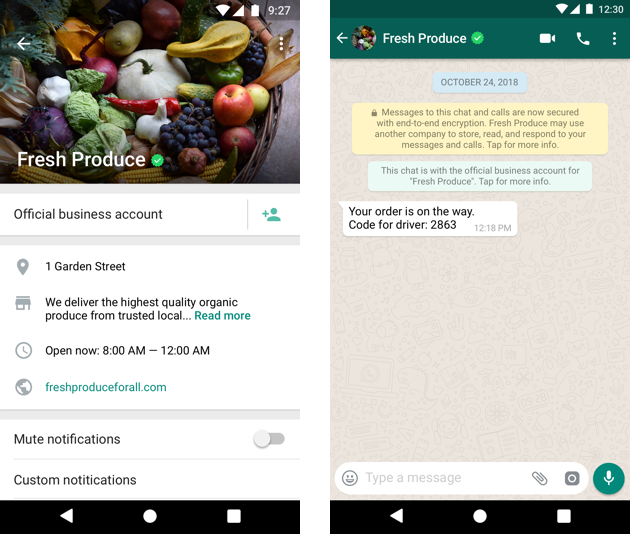 Official Business Account with green tick
If the WhatsApp Account is an Official Business Account, the Verified Name will be visible in the chat list, chat screens, chat groups, and contacts view instead of the phone number. There will be a green checkmark beside the displayed name in the contacts view.
To apply for an Official Business Account, WhatsApp requires businesses to complete Business Verification and enable Two-step Verification during WhatsApp Account Registration.
Business Verification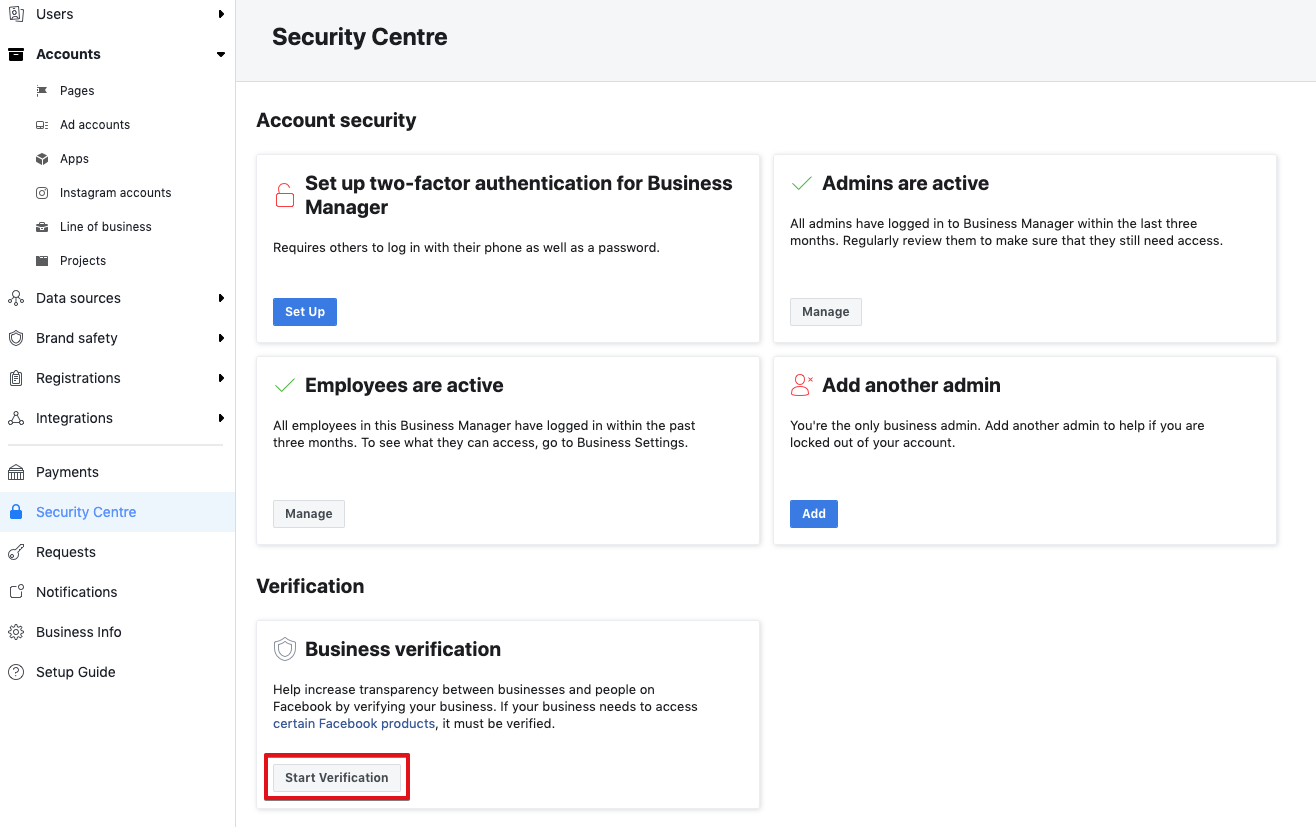 Facebook Business Manager Settings
You will have to complete verification for your Facebook Business Manager, please refer to the steps given here. Once your business is verified, you will be able to see your business verification status as "verified".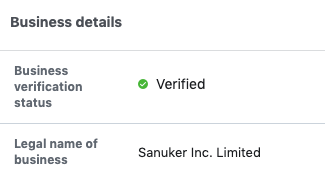 Verified Facebook Business
Two-step Verification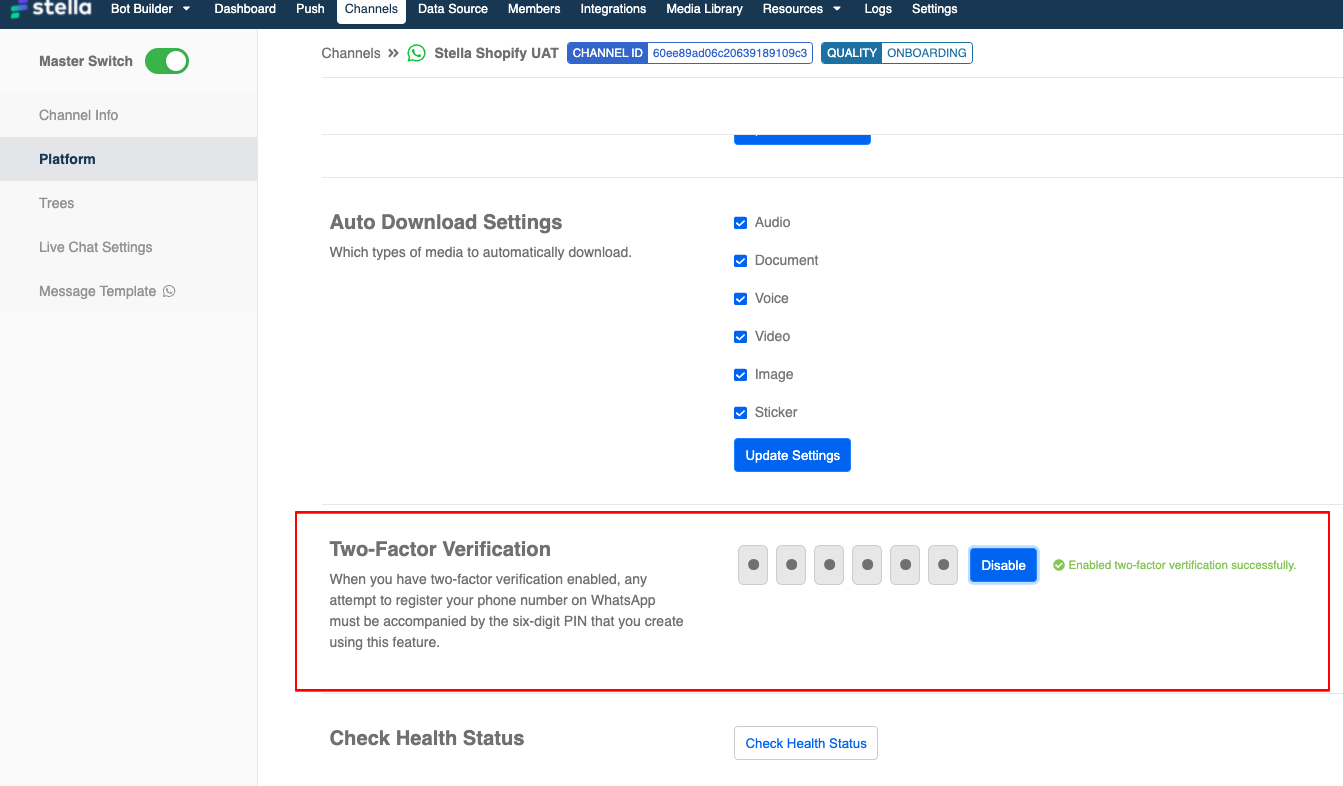 WhatsApp Business Registration Portal
You can also need to set up a code for two-step verification in "Platform" under "Channels".
Rate Limit
Items
Description
Request rate limiting
"Request rate limiting" is the throttling of incoming requests on an API endpoint.

Beginning with v2.25.3, the request rate limit for the messages endpoint is 50 requests per second with bursts allowed up to 150 requests per second.

For details, please click here.
Concurrent rate limiting
"Concurrent rate limiting" is the throttling of incoming requests when the Coreapp itself is under heavy load

For details, please click here.
Messaging Limit
Messaging limits determine how many unique users your business can send messages to on a daily basis.

- Tier 1: Allows your business to send messages to 1K unique customers in a rolling 24-hour period.

- Tier 2: Allows your business to send messages to 10K unique customers in a rolling 24-hour period.

- Tier 3: Allows your business to send messages to 100K unique customers in a rolling 24-hour period.

For details, please click here.