Slack Inbox Setup Overview
Slack Inbox is a useful application for customer service, which provides you with easy and convenient functions to handle WhatsApp enquiries alongside with the help of WhatsApp chatbot.
In Slack Inbox, when a customer is interacting with your chatbot on WhatsApp, you can simultaneously monitor their conversation on Slack. You can also switch off the chatbot and start a live chat with the customer by typing or sending templated messages.
This Standard Procedure will show you a step-by-step guideline on setting up your Slack Inbox system. It will also highlight the tips that you should pay attention to during your journey.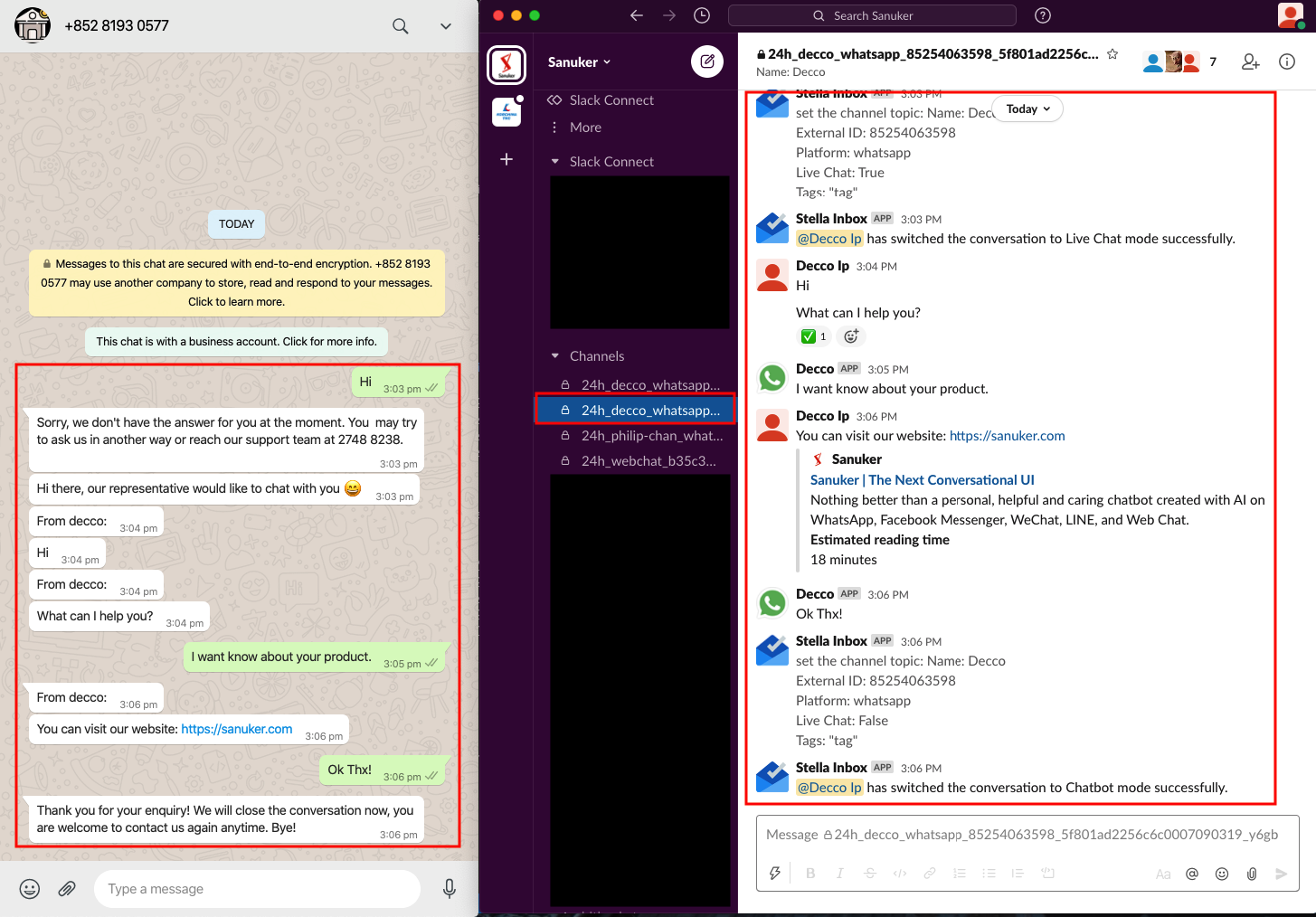 Real-time enquiry handling on Slack
Before setting up the Slack Inbox system, please send us an email request at hello@sanuker.com and provide the following information:
After that, our support will arrange a deployment schedule and share with you a developer email for granting admin access to your Slack workspace.
(Go here and learn how to find your Channel ID.)
Level One - Set up Slack Inbox

As the admin or super admin of Slack Inbox, you can have access to the Access Control Panel and Admin Panel to modify different Slack Inbox settings. This session will also teach you how to make use of different Message Shortcut and set up Customize Messages for Slack Inbox operation.
Level Two - Live Chat Control

Slack Inbox allows agent to view, monitor and engage in a conversation with a user. As an agent, you can Toggle On and Turn Off the live chat mode. You can also make use of Ticketing System, Ticket Helper and Member Tag while handlding live chat request.
Level Three - Create and Send Message Templates

Apart from typing text messages, Slack Inbox allows agent to send message templates. In this section, you will learn how to create and send Chatbot Message and WhatsApp Template.