In Inbox Channel, agent can type in text messages to interact with the user during live chat. But agent can also make use of Chatbot Messages. These are Response from your tree node, which are stored in Stella. During live chat, if the user has an enquiry which could be solved by the chatbot, you can send a Chatbot Message Template in this case.
What is your Result?

In the live chat, the user asks about the opening hours. As the information about opening hours has been saved as a response from the chatbot, the agent sends a Chatbot Message Template to answer the enquiry.
---
Getting Hands-on
Create Chatbot Message
You need to first create a tree with Bot Builder in Stella. The Responses in the tree are the Chatbot Message Templates that you can use in Slack Inbox. You can also add enable member tagging or analytics to the response.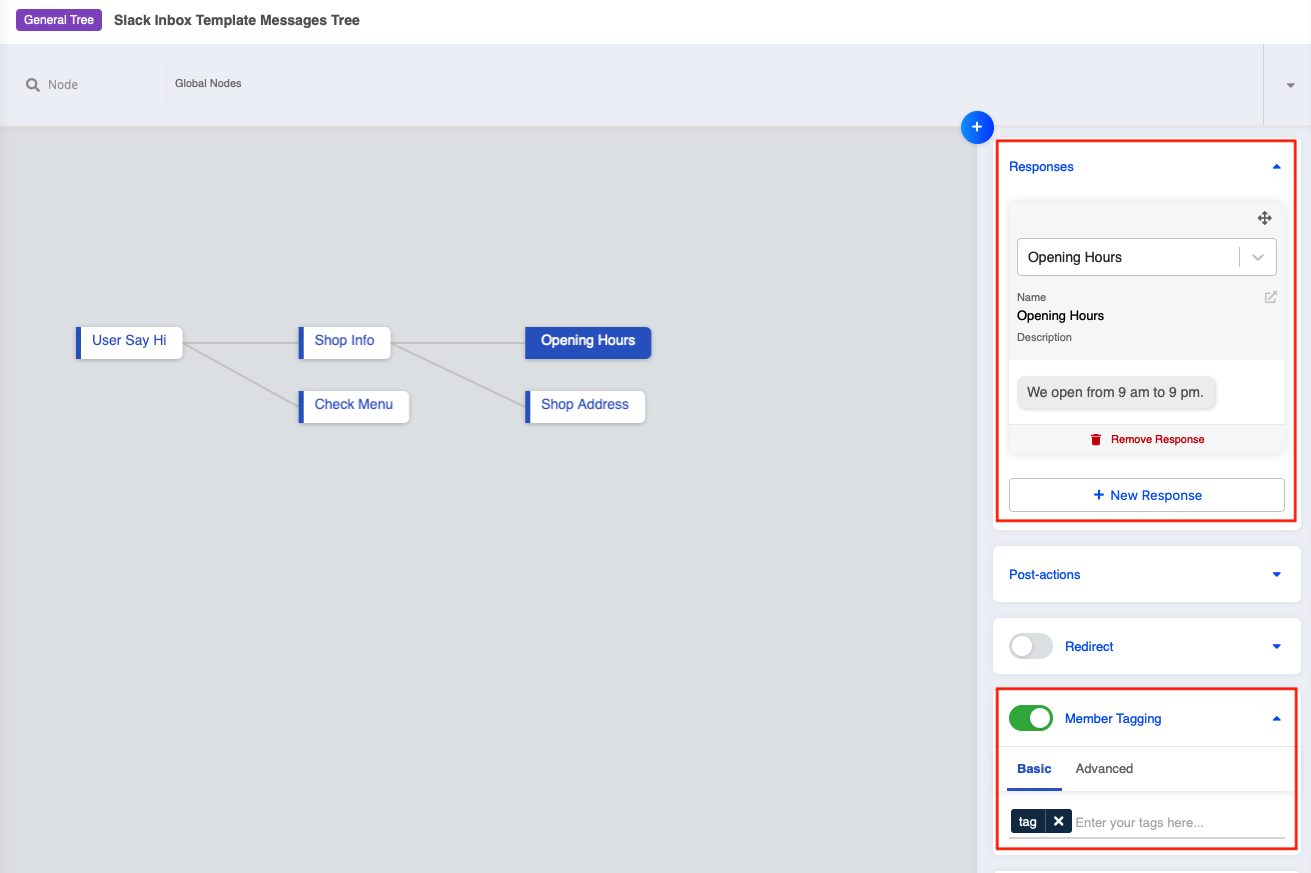 Create a Tree & Response
Once you have built your tree, go to Bot Builder, then copy the Tree ID and send it to us via email at hello@sanuker.com for integration with Slack Inbox.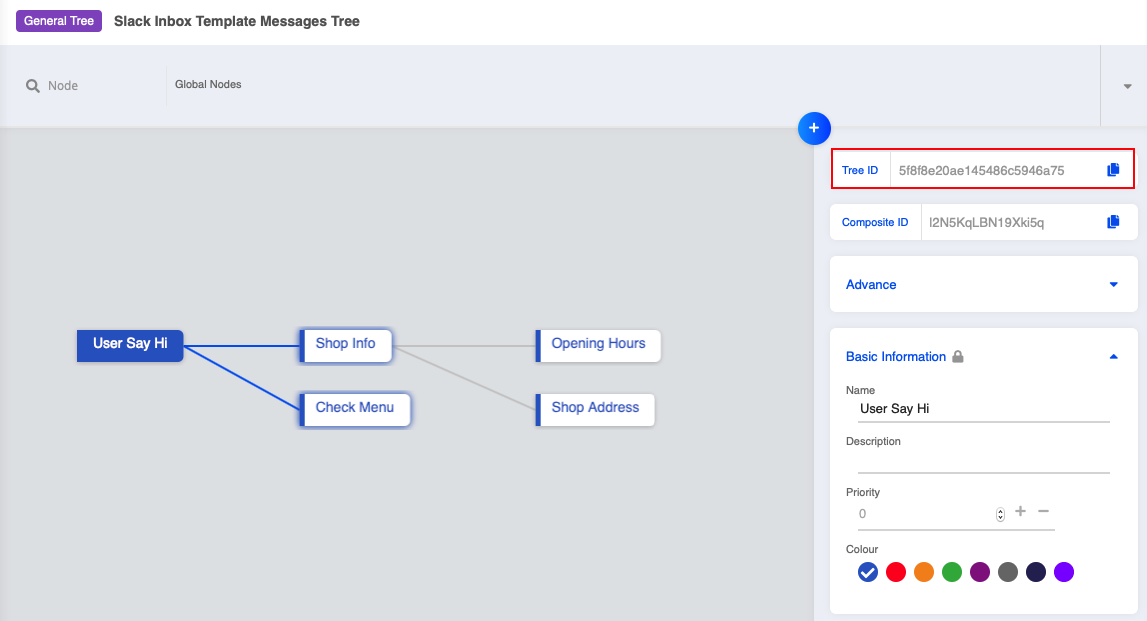 Send Tree ID
In Stella, select Resources, then select Responses. In this page, you can view the list of your Chatbot Messages by sorting out the corresponding tree.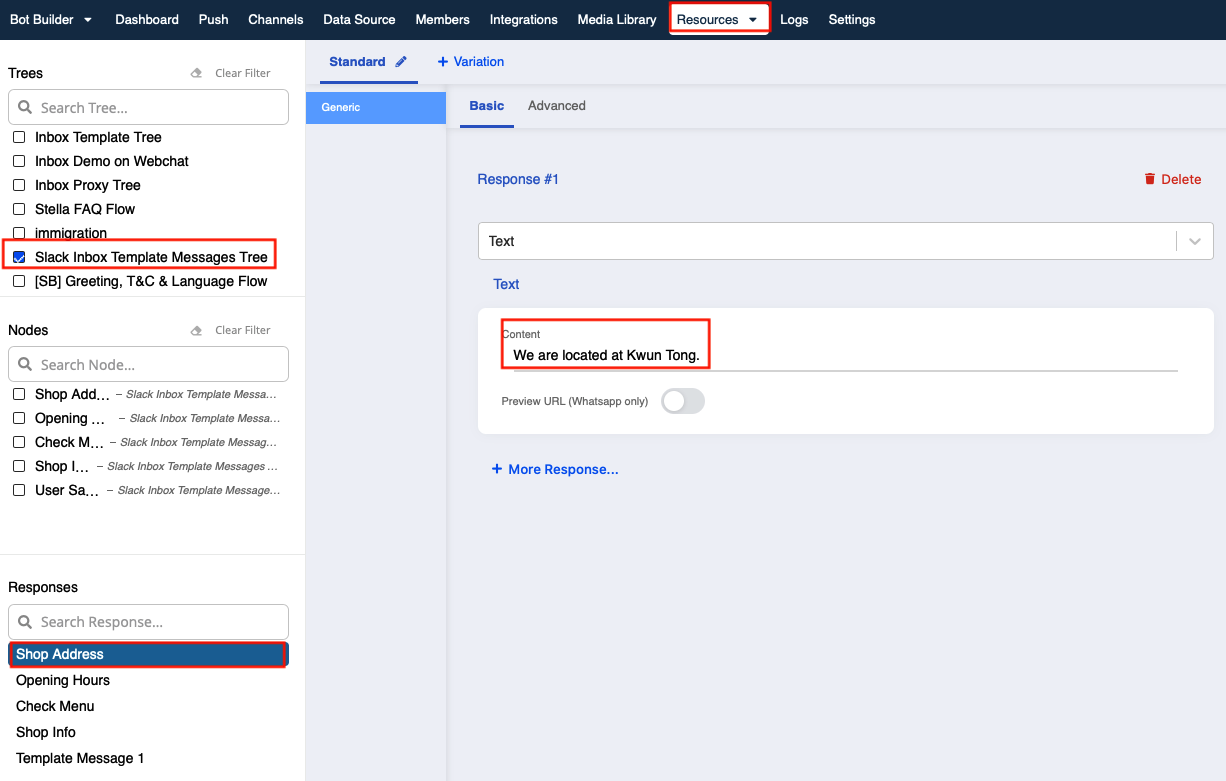 Send Tree ID
Send Chatbot Message
In the Inbox Channel, hover over a message in the inbox channel, select "More actions" on the right, then select "More message shortcuts".

Send Chatbot Message - 1
You can see a list of Message Shortcuts in the menu. Select Send Chatbot Message.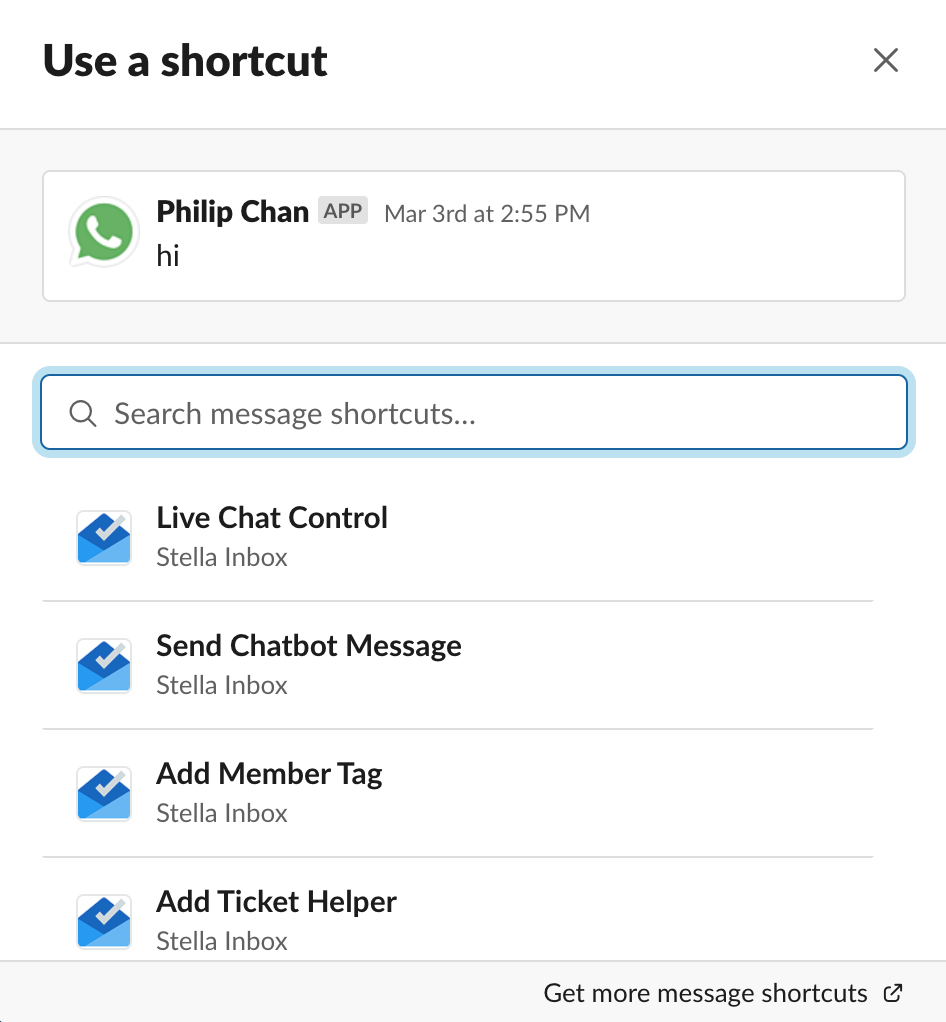 Send Chatbot Message - 2
Click "Show" to view the dropdown list of Chatbot Messages.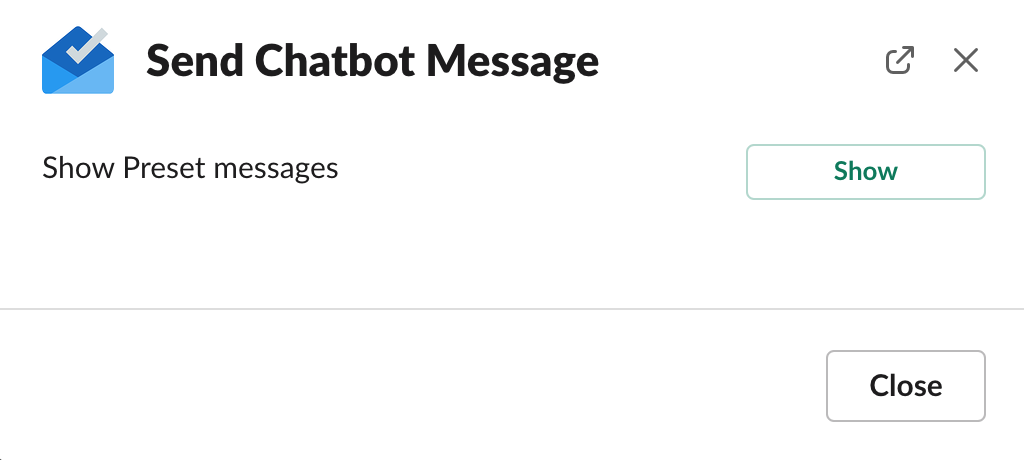 Send Chatbot Message - 3
Pick the Chatbot Message from the dropdown list, click "Submit".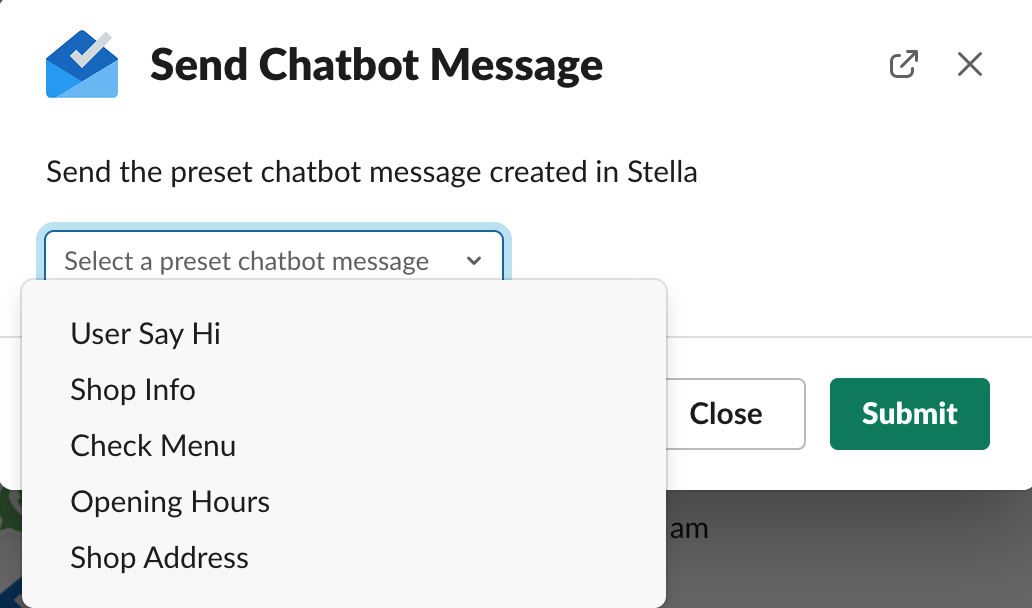 Send Chatbot Message - 4
Slack Inbox would notify you if the Chatbot Message has been successfully sent. The template message is displayed in the Inbox Channel, the "tick" means that this message is sent by Stella Inbox.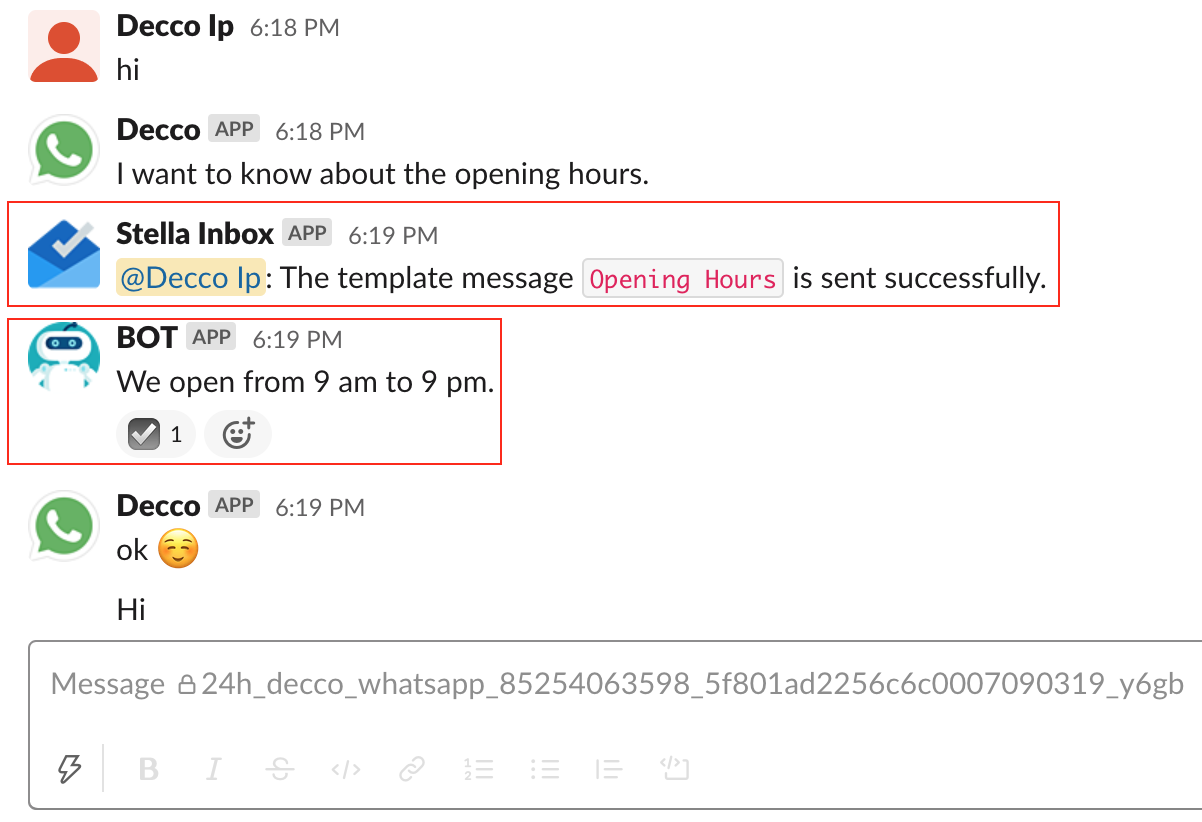 Send Chatbot Message - 5
If you enabled member tagging in the tree node containing the Response, you can log in Stella, select Members and view the member tag.

Send Chatbot Message - 6
Check and see if you can produce the expected outcome.